If you are planning to start up a business but does not know which kind of business to operate, then maybe this article can help you.
In our generation today, more and more people love to spend their time in a café to relax, unwind, socialize, enjoy, and a lot more reasons. In addition, we cannot deny the fact that all people eat and drink, as these two are needed in order to sustain life. From this, a café or a restaurant could surely be a quick and click business, especially if the café offers great foods and drinks, with effective marketing and excellent customer service. This is why more cafes and restaurants are opening up and serving the industry. Owning a café actually has benefits and below are some of them.
• Considered to be the most evident benefit of owning and operating your own business is that you are the boss. You work for your own company and you do not have to follow other bosses. In addition, you do not have to worry about being late and being obedient, since no one will fire you. Through owning your own café business, you can have great freedom from the pressures of being an employee serving another boss.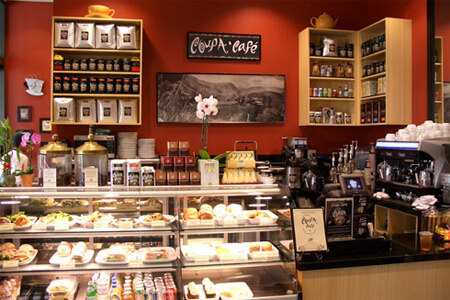 • Opening up your own café business could as well greatly enhance your creativity and other skills like culinary. This is excellent especially to people who loves to prepare and cook various kinds of foods and drinks. Since you have your own café, you could freely decorate and design it, be able to pick the best name or brand, decide which foods and drinks appear in the menu, and a lot more.
• Through owning a café, you have the chance to actually meet a lot of people with different interests and races. This could certainly be a great opportunity for global café trading. If one customer loves and becomes loyal to your café, you would know which food or drink he loves in your café and where he particularly loves to sit. Through this, you can be able to serve them better and they could as well be one of your ways to gain more customers, through word of mouth marketing.
• If your café business reaches success, its financial benefits will truly be worth your efforts. In addition, you gain immediate influence on your financial stability.
• If your passion is operating a business, particularly in food and drink services, then owning a café could be very great for you. You would never feel like you are working if you truly love what you do. Instead, you would enjoy while making money.
• Another advantage of opening up a café is that you do not have to always pay for your daily food intake because you could actually get food from your own café. Through this, you can really save more.
Even though running your own business can be quite stressful especially if you do the entire work alone, still you could gain benefits from it. To avoid working alone, hire employees to serve for your business.
Learn from the expert! Check the best café Brisbane.