A foam blank fused with creativity can result in various surfboard designs. It really takes a good shaper to come up with great designs that will give every surfer a ride of their life. As you hit the beach, nothing beats owning a killer surfboard that allows you to catch the wave. The surfboard designs are not only intended for pleasing the eyes as it must also ensure that it meets the surfing standards. You can increase surfing enjoyment once you have an idea of the design components that you must include in every surfboard.
Gaining Basic Understanding Of Surfboard Designs:
The design is not only limited to the physical attributes of the surfboard as it also includes three aspects and these are the surfboard types, materials used and the surfboard components.
• The Surfboard Components
One of the important aspects of surfboard design is its components. These include length, width, nose, rocker, tail, deck, foil and many others. These are very important because they are key indicators whether or not the surfboard is conducive for riding. For instance, the length must be measured accurately as this can be a contributing factor to the board's stability. The length may greatly depend on the surfer's ability and weight. This is why the right size is encouraged to avoid injury.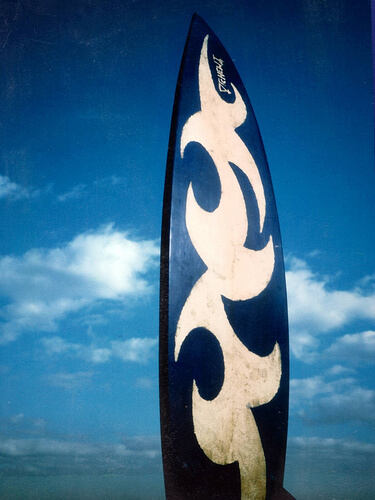 • Types of Surfboards
Even the surfboard types must be kept into consideration because they are not one and the same. Some of the most popular surfboards are shortboards, longboards, fish, gun, funboards, hybrids and others. It is important that you know which type of surfboard you need or you will not enjoy catching the waves. Shortboards are ideal for aggressive surfing and it usually has thinner rails, sharp nose and high rocker. On the other hand long boards are traditional and it is thicker so you can paddle easily. If you are a beginner, you should start with using the long board. Being able to determine which type suits your ability is important as it helps you progress to another skill level and improve your surfing ability.
Photo Credit : www.gopixpic.com
• Surfboard Materials
There are various materials used for shaping a surfboard and these include fiberglass cloth, foam blank, stringer and resin. The foam blank is made with polystyrene or also referred to as Styrofoam. If you are going to use fiberglass cloth, you need to strengthen the layer with two fiberglass cloth. You need to use a resin to bond the cloth and this is poured onto the board and cloth until it is totally saturated. One of the popular types of resin is the Epoxy resin.